Be our Guest!
HOTEL SONATA in Baden-Baden *** SUPERIOR
Our Hotel Sonata in Baden-Baden is an enchanting combination of tradition & modernity located in the centre of the UNESCO World Heritage City of Baden-Baden where our family-run hotel is the perfect place to stay.
Our hotel, with its rich history, located directly opposite the internationally renowned Festspielhaus now boasts a modern, attractive look. A total of 38 rooms and suites on two floors were customised to comply with the new, high standards relating to comfort, design and style. The interior is now a real eye-catcher!
In our house you will not only find our hotel but also the Italian Restaurant Paganini and eventlocation Duke which is located in our basement where legendary Pit's club used to host many international stars back in the 1960's.
As a guest at the Sonata, you will find countless ways to enjoy your free time. Whether you are interested in the cultural past of the town and our hotel, wish to enjoy the top-class art and cultural programme, make the most of the exclusive shopping opportunities, or simply wish to enjoy a good glass of wine on our terrace – you won't need your car so simply park this safely in the Festspielhaus underground car park opposite the hotel.
Hotel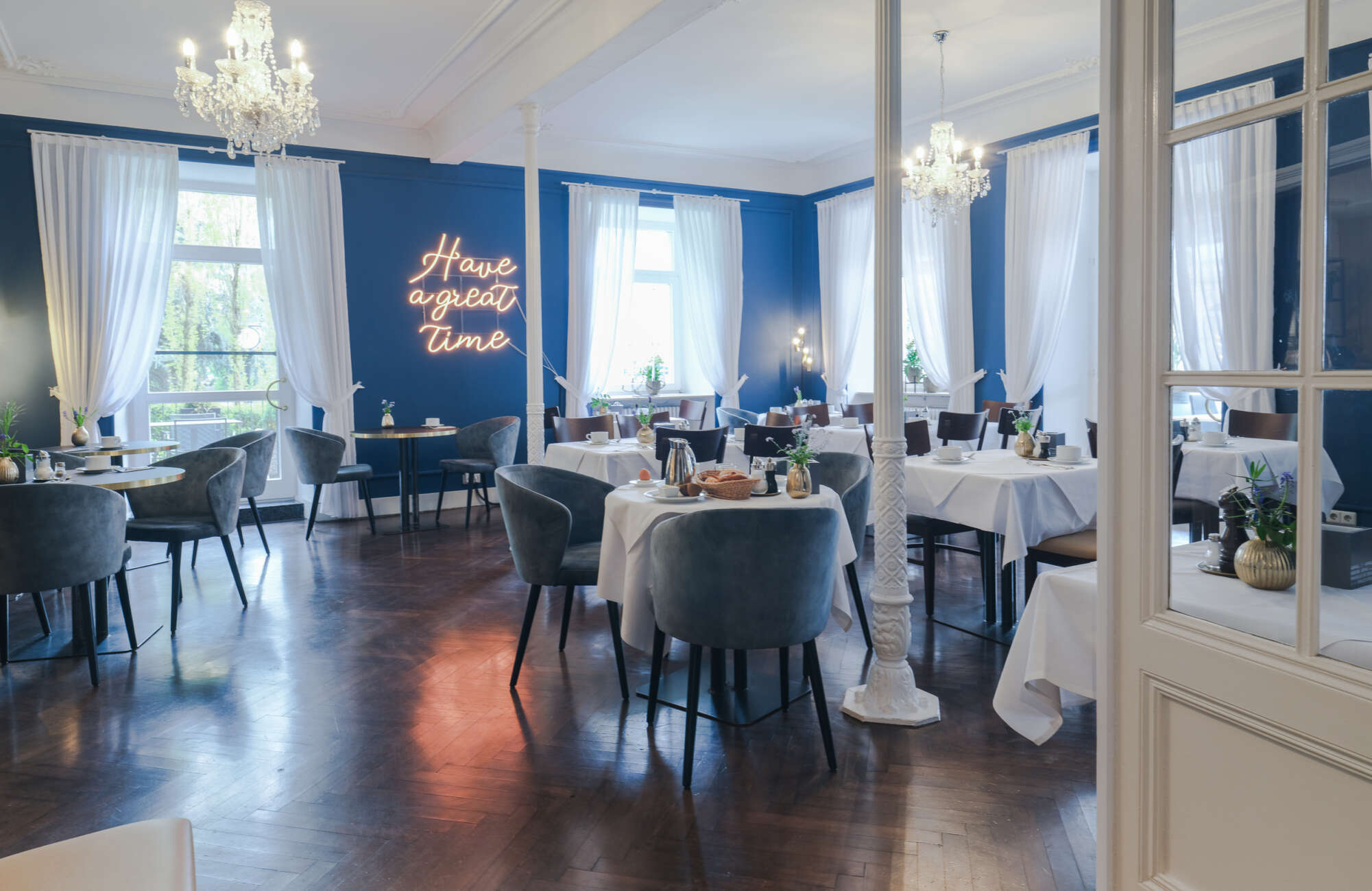 Stay where Johann Strauss already stayed
As our guest at Hotel Sonata you have countless options for having a good time in and around Baden-Baden. No matter if you're interested in the cultural history of the city or the world class entertainment options in Baden-Baden, some high-class shopping experience or just enjoying a glass of wine on our terrace – Baden-Baden offers it all. Your car can stay safely in the Festspielhaus underground car park.
Restaurant Paganini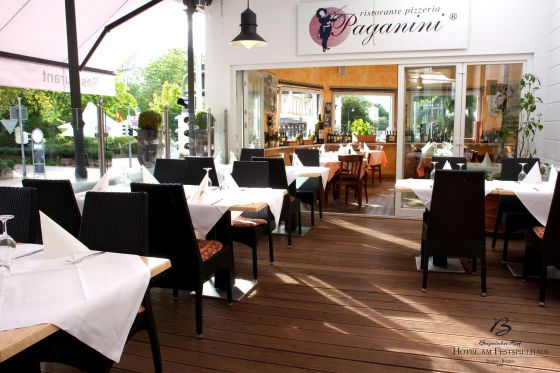 Southern Italian cuisine at Paganini Ristorante Pizzeria
Experience the flair of the tasty southern italian cuisine at Paganini Restaurant. It is not our own restaurant but it is conveniently located in our house and they are happy to serve our hotel guests.
Please keep in mind that Paganini is not open on wednesdays.
Eventlocation Duke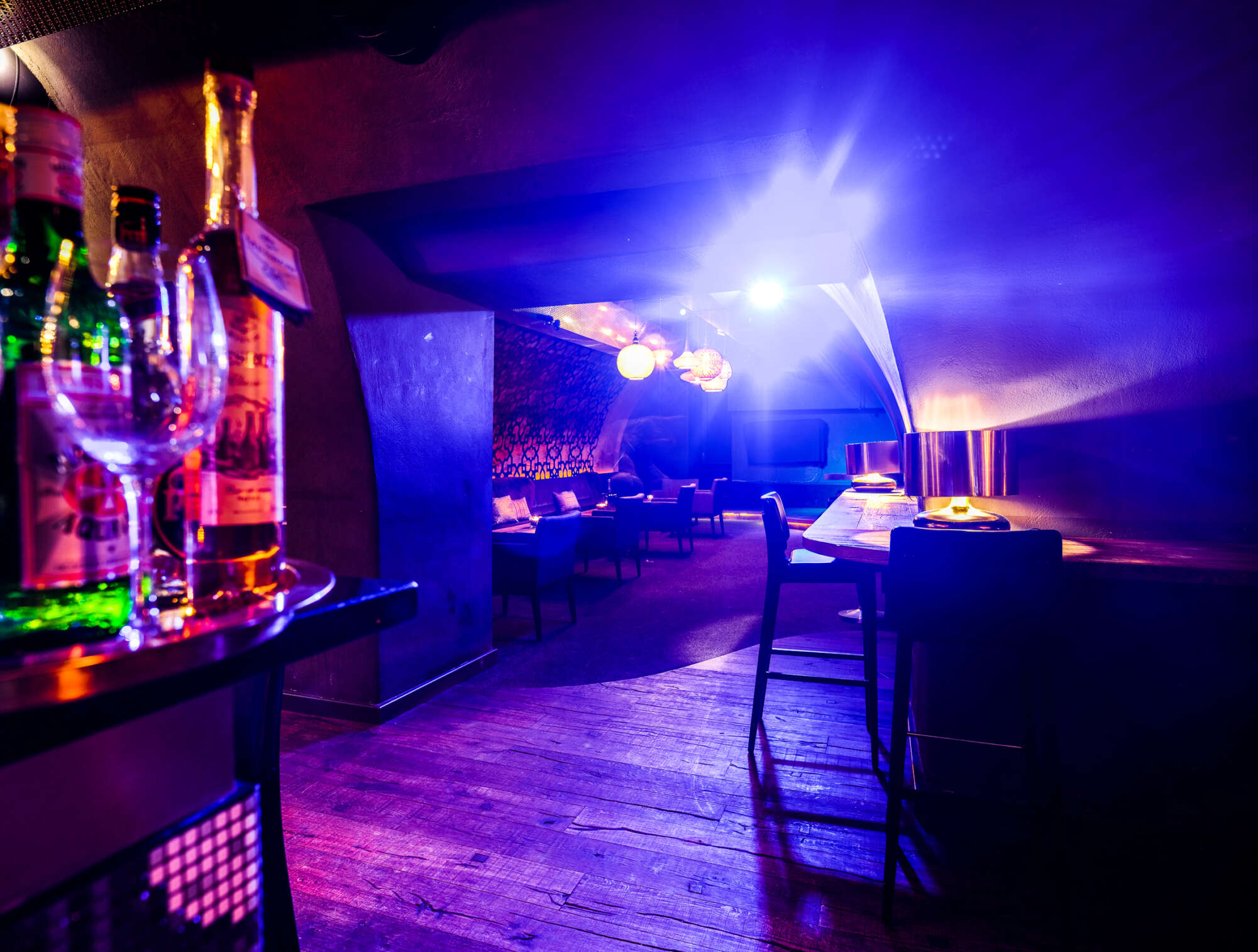 One of the coolest event locations in Baden-Baden
Our basement event location DUKE is located in the rooms of legendary Pit's Club and still has it's legendary ambiance which hosted many international stars back in the 1960's.
Duke has a capacity for up to 100 people and is supremely equipped with variable ambiance lighting, a good sound system, vine cooling facilities and an efficient ventilation system to keep the air fresh on any occasion.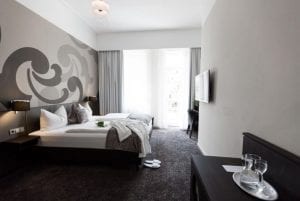 You've got the choice!
OUR ROOMS
Our Hotel Sonata *** Superior features luxurious, comfortable and air conditioned rooms.
Some of our rooms feature a wonderful view over the famous Festspielhaus.
Our hotel also features a nice hot sauna which our guests may use without extra cost.
What our guests like to tell about us
"Great Hotel –  I'll come to stay again – for sure!"
"Very pleasant place! We like it very much! Good luck! Thank you!"
"I'll be happy to stay again in your house. Many thanks!!"
"The best lighting ambiance of all hotel rooms that I have ever seen. Super"
Great and friendly staff at the breakfast and reception. We recommend this Hotel and will come to stay again!
"Everything fine – that's why I will come a fourth time with pleasure. Thanks!"
"Everything was wonderful! As always! Perhaps – more coat hangers?"
"Everything was okay. A very good relation price/service. Thank you!"
"Thank you for a wonderful time here!"
OUR ARRANGEMENTS
Our current offers for your personal Baden-Baden experience
NEWS
Current Events in Baden-Baden